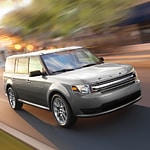 We have the popular three-row Ford Flex midsize SUV here at Sunnyvale Ford, and today we've chosen a couple of its style features to highlight and discuss with you to help you get better acquainted with this popular third-row vehicle.
A Standard Chrome Grille
The Ford Flex comes standard with a chrome grille that blends seamlessly with the headlights and accentuates the entire front style with the eye-catching F L E X lettering on the hood.
Multi-Panel Vista Roof
With this feature, you get a skyward view across all three rows of seating with a power moonroof on the first row, two skylights on the second row, and then a single large skylight on the third row.
To learn more about the Ford Flex or to experience it for yourself by taking one for a test drive, please contact us or stop by here at Sunnyvale Ford in Sunnyvale, CA today!